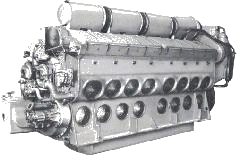 Technical Training Consultants, Inc.
Technical Training Consultants, Inc. meets the needs of employers and individuals who work directly with diesel engines and electrical control systems. We offer courses in virtually all types of diesel and electrical control systems manufactured by EMD (Electro-Motive Division of General Motors), including:


Locomotive Engine
Dynamic Brake
Dash 2 Electrical
50 Series Electrical
60 Series Electrical
Composite (Mechanical & Electrical)
70/75 Series Electrical
Switcher Locomotives
Short Line Locomotives
Drill Rig Engine
Marine Engine
Basic electronics for marine

Stationary Engine
You'll Receive the Finest EMD Training
TTC's knowledgeable instructors emphasize troubleshooting. Mechanics are taught how to troubleshoot low horsepower, smoking engines, oil consumption, fuel injection, and individual component failures; and, of course, how to "prevent failures." Electricians learn how to troubleshoot NO LOAD, OVER LOAD, ERRATIC LOAD, UNDERLOAD, and to differentiate between an engine problem, governor problem, and electrical problem.
TTC can save your company money by decreasing your downtime and eliminating unnecessary component replacement. Since 1988, TTC has trained over 6,000 students nationally.
TTC Creates Training SCHEDULES to MEET YOUR NEEDS
Have you been forced to schedule classes for your employees at inopportune times? Call us, and we will try to arrange a special class for your employees (minimum 12).
And TTC WILL TRAIN at YOUR FACILITY!
If you provide us with a classroom and at least 12 students, then TTC will bring the training to you! Please call us soon for details, as our travel schedule fills quickly!
You Can Even CREATE YOUR OWN COURSE!
Need a special course not listed in our curriculum? Our instructors can probably meet your needs! In fact, TTC offers several other courses not listed here, so call us and tell us what you need!
OFF SITE COURSE INFORMATION CALL 630-353-0400
TO PURCHASE HOME STUDY COURSES
http://TTC-TRAIN.digitalchalk.com
just $399.00 each